Are you ready to launch a Customer Advisory Board?
Review the key pieces you need to launch or re-launch a CAB, in this informative guide.
Whether you are interested in creating a Customer Advisory Board or examining your current CAB,
use this checklist as a guide to review your readiness to launch a CAB.
This checklist covers the beginning stages of a CAB through the recruitment process.
Download this guide right now to see the complete checklist.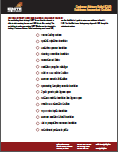 Ignite Advisory Group
www.igniteag.com
info@igniteag.com
Phone 888.667.7072